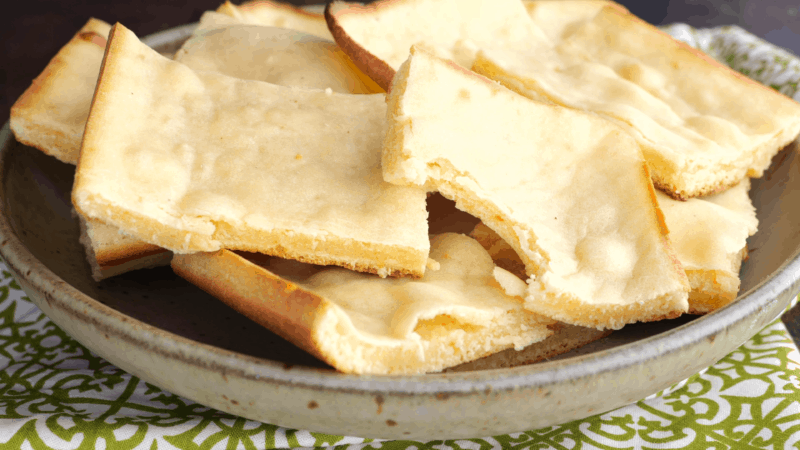 Soft Unleavened Bread
It takes just six ingredients I bet you already have at home to make thiseasy soft unleavened bread recipe. Yeast-free, it's the most versatile anddeliciously chewy bread recipe around.
Ingredients
3

cups

All-purpose flour

2

tsp

Sea Salt

1.5

cups

Whole Milk

3

Eggs

2

tbsp

Olive Oil

2

tbsp

Sugar
Instructions
Place all ingredients in a medium mixing bowl. Beat with an electric mixer for about two minutes, scraping down sides if needed. Spray an 11x15 pan with cooking spray. Pour batter into the pan and spread dough to the edges.

Bake at 450 for about 20 minutes, until just very lightly browned.

If you don't have an 11x15 pan, use a larger one and spread it into a rectangle about 11x15inches.
Notes
Notes: For each of the following variations, begin with fully-cooked bread: Cheesy Bread: Sprinkle top generously with mozzarella. Place in a 350-degree oven until cheese is fully melted. Cinnamon Bread Sticks: Spread 1/4 cup of melted butter over the top of the bread. Stir together 1/2 cup of sugar and 1-2 tablespoons of cinnamon. Sprinkle evenly over the top.
Place in a 350-degree oven for about 10 minutes, or until bubbly. Italian Herb Bread: Spread top with 2-4 tablespoons of olive oil. Sprinkle with dried Italian seasoning and garlic powder. Bake at 350 for about 10 minutes, or until fragrant.